It's the first Top 10 Thursday of 2008, so it's only fitting that this chart has something to do with the year that just recently came to an end.
When I look back on 2008 in an "entertainment" kind of way, all I can think of is all of the comebacks that happened throughout the year. It wasn't just in the music world.. But old TV shows were back and alive again.. Sports were really making a comeback that they had hoped for, and things that we thought were buried alive and a thing of the past suddenly became a thing of the present again.
So, today, I look back on the year and present to you
The 10+1 and an Honorable Mention

[AND an A for effort category]

Comeback Kids of 2008
A's for Effort: Backstreet Boys, Jessica Simpson, Brandy
All of these people certainly tried to make a comeback, but didn't get too far with it.. And maybe have some time to go. The Backstreet Boys went on a tour overseas, and released a song that didn't make it very far. They did, however, perform on the finale of TRL, which may have helped.. A little? Jessica Simpson did her best to come back into the music world by going country. Though her one single "Come On Over" did pretty well, ratings for her performances did not. Who knows if we'll keep hearing much more, unless Mr. Romo uses his powers, somehow. [After all, she is more known for being his bad luck than a music artist.] Brandy just released a new album [the first in 4 years] and debuted at #15, as well as released 2 singles, one of which [Right Here (Departed)] reached #1.
Honorable Mention: Travis Barker
The Blink-182 naked drummer hadn't been in the limelight since the band faded out in 2005. Then he collaborated with DJ AM. Though many people really recognized his comeback at the VMA's in September, they really paid attention after their plane crash less than 2 weeks later. Though it was something tragic that really got everyone to look his way, they're back to rooting for him whole-heartedly.
Figuring I mention 2 boy bands that made a comeback this year in this list, you have to give credit to the whole idea in general, also. NKOTB is back, and BSB is trying to.. But that's not all. We welcomed Day26 into the world, and now the R&B group Brutha is on the scene as well. The JoBros are the biggest thing to happen to Disney since Miley Cyrus, and Boyzone, a UK boy band, is said to have one of the biggest comebacks of the year throughout the internet. They're baaa-aaackkk.
10. 90210
The show came back revamped for the first time since the original ended in 2000. It helped create individual comebacks for people like Shannen Doherty and Jennie Garth, AND brought Degrassi's Shenae Grimes and Weeds' Tristan Wilds into a bigger and brighter spotlight. Though the ratings aren't as high as everyone had hoped, it's getting about 3.4 million viewers weekly, and was nominated for "Favorite New Drama" at the People's Choice Awards.
It's been about 7 years since Kid Rock came out with a song or album that really did anything for his credibility, but with the release of "All Summer Long," he was back in the spotlight.. And not just in one "world." The single played on virtually all types of radio stations from country, to rock, to Top 40/Pop stations. And even though the summer is long over, chances are you'll still hear it every day. He even performed with Lil Wayne on the CMA's as well as the VMA's, and is set to perform at this year's Grammy Awards.
8. The Miami Dolphins
The team that ALMOST made history by being the first team to go 0-16 in the NFL, suddenly isn't so bad. At the end of last season, Bill Parcells stepped in, kicked everyone out, and transformed the franchise. They finished this season 11-5 and with the AFC East title, something they haven't had since 2000.
It had been about 4 years since we met any new boyfriends, or saw any new sex scenes from the girls in the city, but finally dreams came true as they took over the big screen in May, making close to $60 million in just the first 3 days. Suddenly, it's the record holder for the top-opening R-rated comedy of ALL TIME. And, if that's not enough.. We have more to look forward to.. Like a sequel in 2009 or 2010.
6. New Kids on the Block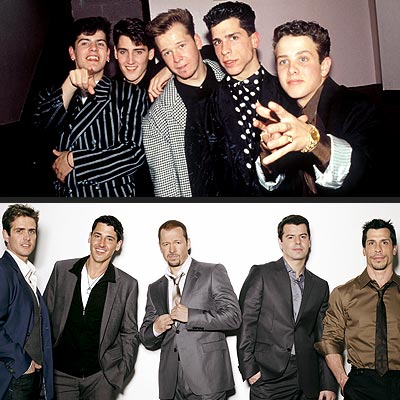 Ever wanted to see a bunch of grown women go nuts? Work at a radio station with NKOTB makes a comeback tour. It had been 14 years since the group was together and making great music, but they came back with "Summertime" to catapult them back into everyone's hearts. The same 5 dancing men, no longer "kids", took over the charts again hitting #1 for their single and comeback album, "The Block."
After divorcing her husband of 2 years Carey Hart, Pink wasn't about to fade out. In fact, the summer gave her her biggest single of all time, and the only one to ever hit #1, "So What." She also debuted her new album "Funhouse" at #2 and is said to be one of the most provocative, personal, and "poptastic" albums of the year.
4. AC/DC
For a band that can be considered "classic rock," it sure did make it big this year. Their album "Black Ice" sold over 700,000 copies in its first week. And oh yeah, it was only being sold in Wal-Mart. It also marked their first #1 album since 1981, and their first album since 2000. They even played a major part in the sales of Rock Band 2.
He was voted the "Entertainer of the Year" by Entertainment Weekly thanks to his roles in Iron Man and Tropic Thunder, and is set to play the lead in the upcoming Sherlock Holmes movie. It was definitely needed for the star who battled with substance abuse for 5 years beginning in 1996, and then a couple relapses inbetween then and now. Now the 43 year old is back on the A-list stronger than ever.
2. Saturday Night Live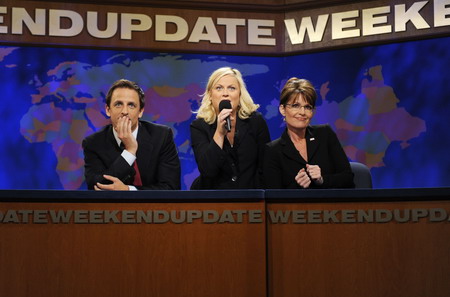 For a show that was definitely falling off the radar, the election couldn't have come at a better time.. And there couldn't have been better candidates for the show to imitate. Thanks to Sarah Palin, fan favorite Tina Fey came back and took part on the highest rated episode [alongside the loser-VP candidate] since Nancy Kerrigan hosted in 1994. Suddenly people were catching all of the videos online, and tuning in to boost the ratings to 5.5, and which could have made it the #3 show for 18-49 year olds had it been primetime.
1. Britney Spears
Call me biased, I don't care. The girl went from complete trainwreck to winning her first VMA [and it wasn't the only one], having her 7th top 10 hit with "Womanizer," which was also her highest debut single ever at #3, AND her album "Circus"sold over 500,000 copies in the first week, debuting at #1. One year ago the pop princess was wearing a hot pink wig and being the "Amy Winehouse" of right now... And now, at the absolute perfect time after being chastised for what seemed like forever, she's looking hotter than ever with a slimmer body, and a great album, with tons of fans to back her up. It's Britney, b*%#@.. And even though she said it's not a comeback, she's back.
So there ya have it. The people that have once again come back into our lives without a doubt, and should remain in the spotlight for more than just a quick second. We know who they are, they're familiar faces, and it's going to stay that way thanks to good decisions career-wise.
Welcome back, guys.. It's good to see ya.
love,
elizabethany