Every Thursday I post a list, of my own opinion. This week, I present to you the opposite of last week's
Overrated Celebrities
;
Hollywood's Most Underrated Female Celebrities
10th place Tie: Whitney Port and Blake Lively

OK, some of you are probably like "how can someone from The Hills or a Gossip Girl be UNDERrated?!" Well, that's the thing, they're only known as characters on their show. Finally, Whitney has gotten credit and been given her own show, but before then, she was just in the background of The Hills, and looked at as the normal girl with no drama. [Why should that be bad?!] Blake is one of the main characters on GG, and she's GORGEOUS [her rating may be based on looks alone, I haven't decided yet], but I haven't seen her on lists of hott celebs, really. [Minus AskMen.com putting her at the bottom- #90] They're both beautiful and good people, from what I can tell, and I just feel they deserve more indivudual attention.
9. Vanessa Minnillo
This is another one that is pretty much based on looks alone. Having met her in person, I know that she's just as attractive in real life as she appears on TV, and she actually looks a lot like Jessica Alba, who everyone loves. She's also a celebrity who is down to earth and doesn't flaunt her stuff just to get attention. The TRL host and ET reporter
may
have made some silly career decisions like "Disaster Movie," but
she's
certainly not a disaster. And I don't know why so many people criticise Nick Lachey for dating her! I think it's a good thing!
8. Sophia Bush

I'll be honest, I'm not sure where her "rating" stands, but I know I don't see anything about her in lists of "hottest celebrities" or whatever [well, she was all the way down at #86 on AskMen.com], and I need to. The "One Tree Hill" actress was all over magazines and the internet when she was dating Chad Michael Murray, but since then, if you want to see her, you better tune into the CW.
7. Mandy Moore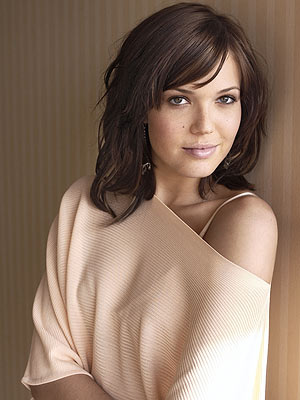 Out of all the "pop princesses," she's the only one not really in the spotlight anymore, yet she was the most overall talented one. She could sing, she had hits, AND she COULD act! She also lives the life of the girl next door. You don't see her partying naked all over the tabloids or getting married for 55 hours or mistaking tuna for chicken. [Maybe this is the reason, maybe you have to do ridiculous things to stick around.. but that's stupid.] I mean really, when is the last time you heard of her? [Minus "License to Wed".. which didn't do that great, and was out a year and a half ago] It's been a while!
6. Cassie

This is
almost
purely based on looks. I don't have to say it, the girl is beautiful. I also think she's a great singer, though. She hasn't had an overwhelming amount of hits [I wonder if it has anything to do with how Diddy runs things over at BadBoy??], but she's had good songs like "U and Me" and most recently "Official Girl." She's always just kind of in the background of people's minds, and needs to be brought up more.
5. Kelly Rowland
This is an example of someone who gets overlooked simply because someone close to her gets too much attention. You can't tell me that when you look at the 3 ladies from Destiny's Child that Beyonce beats Kelly. And it's not even about looks! When you look at Kelly, physically and how she handles herself, she's seems so down-to-earth. Her music is/was a little more low-key, but it worked. ["Dilemma" is one of Billboard's Top 100 songs ever!] She's gorgeous, and she may know it, but she doesn't flaunt it.. and THAT makes her WAY more attractive than her fellow bandmate.
4. Kourtney Kardashian

The problem here is that her sister, Kim, another overrated celeb, gets ALL of the publicity. And I don't just mean in general. Kim is looked at as the gorgeous Kardashian girl with the perfect body, perfect life, blah blah blah. I don't buy it. Kourtney is way prettier, and on the show she seems a lot more genuine and "real-person" than her younger sister Kim. It's just one example of the younger sibling getting all of the attention.
3. Jessica Stroup
AKA Silver on the new 90210. If you watch the show, you'll know why. For those of you who don't, she's another one of those pretty, but not too pretty girls. [Minus her struggle with weight right now.. She's SO skinny!] Most of you probably have NO idea who she is, ESPECIALLY if you don't watch the show, and that's a shame. She has been in movies like "Prom Night" and "The Hills Have Eyes II," but she certainly didn't get much credit for them. [And if she did, I don't know about it.] There's not much else to say.. not much I NEED to say, except that shes a beautiful, young, talented actress with little-to-no recognition.
2. Ellen DeGeneres

Okay, a lot of people definitely give her a lot of credit, and the credit she deserves, but it drives me NUTS that when people think talk-show host, they think Oprah.. or sometimes even Tyra! [Both of which should have been on my list last week. Hmmm.] Ellen has the funniest talk show out there today, and it's also useful. She stands for equal rights and just about every important issue out there today. ANYONE AND EVERYONE can love it. She's won Emmy's for it, so in that sense, yes, she's acknowledged, but I think with my generation, she's completely overlooked, and that's not okay. Not to mention the fact that she's beautiful and has the most amazing eyes! [Does this sound like I'm coming on to her??] If you haven't yet, watch a week's worth of her show. If you DON'T fall in love with it/her, I'll be amazed.
1. Tamyra Gray
I could come up with TONS of people from American Idol who didn't win and deserve WAY more credit, but this girl is at the top of my list. She was on Season 1 of AI, before most people even knew it existed, and WAY before people got sick of it, and she ROCKED that stage. She was the one who got kicked off way too early that season. Fans had hope when she got a gig acting on Boston Public and sang her version of "Dance With My Father" [which I like BETTER than Luther's version..]. Then, she disappeared, and no one has heard much since. She is one of the most talented Idols ever, [think of her as Jennifer Hudson, but even better] but few people remember.
I better not have any haters. If I do, fine, state your case. ;)
love,
elizabethany