Not only is it Thanksgiving, but it's also Top 10 Thursday!!
And besides eating too much you have to unbutton your pants, watching football, playing football, getting your cheeks pinched by family members, and checking out tomorrow's ads, one of the best things to do on Turkey Day is watch a Christmas movie.
It's the day that marks the holiday season, and what better way to get into the holiday spirit than to watch a great Christmas flick with your fam?!
So, today, I present to you..
Top 10

Christmas

Movies To Ignite The Spirit
10. The Polar Express
A lot of people really overlook this movie. It's one of those not cartoon, but not quite real movies that technology has created. More importantly, it's a classic story of a boy who doesn't believe in Santa Clause until someone takes him for a journey. Kids enjoy everything about it, and adults enjoy how amazing the visuals are, as well as going back to the times where they too went through that time. ;) It's a soon-to-be Christmas classic, I know it.
9. A Christmas Story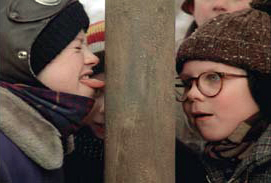 Shoot me for putting this down here on the list.. I don't care. Yes, it's a classic movie. It's an amazing movie. I love seeing Ralphie get his tongue stuck to the pole. Here's my issue--> It's the perfect movie for CHRISTMAS DAY. It's on TV for the entire 24 hours, and that's when it's the perfect time to watch it. It is a great holiday movie though, so it's definitely a possibility for tonight's activities.
8. How the Grinch Stole Christmas
I'm going for the Jim Carrey one, here, mainly because of the issue I have with Christmas Story.. The cartoon is way more Christmas Day-like than the life-like one. Plus, Jim is very funny, and it's a lot more family friendly than the childish cartoon. However, it's a classic Christmas story, and is one that helps remember what it's all about.
7. The Holiday

This is mainly for the ladies, but if guys let their guard down, they can enjoy it too. It's certainly a love story [or two] that makes two very lonely people, maybe not so lonely anymore. It shows how the season can bring new beginnings, hope, and happiness to everyone all over the world. It'll pull you into their lives for the night, and that's okay.
6. Bad Santa
Maybe not the most family oriented movie, but it's a good one for adults to watch tonight. Seeing Santa in a light most people aren't used to creates fantastic humor. Also, it's not too Christmas-y that you feel bombarded with spirit. You can watch the stores prepare their displays and Santa and elves while you prepare to finish your last minute shopping.
The ghosts of Christmas past, present, and future have been replayed over and over again over the years, but this rendition is one of the best comedy-wise. Bill Murray is fantastic, and this movie is probably the one we can thank for getting his career catapulted. Sit around, laugh, and enjoy a story everyone knows.
4. National Lampoon's Christmas Vacation
Who doesn't love the Griswald family?! This movie went straight to video, but also straight to everyone's list of great Christmas movies. The holiday brings a lot of stress to some people, so it's nice to sit back and watch another family struggle to make everything work.. But of course, it doesn't come easy.. The laughs do, though.
3. The Santa Clause

This is a movie that we have seen grown into a classic. The sequels were great, too, but nothing beats the original. Don't believe in Santa? Once your dad
becomes
Santa, I think you might. It's another one thats good for everyone in the family, from kids to grandparents, girls to men. Santa Clause is coming to town, are you ready for him?
2. Home Alone
Some people don't always think of Home Alone as strictly a Christmas movie, which is reasonable, but it is. It's a movie that never gets old, and can even be watched throughout the year, but is perfect to launch the holiday season. Poor Kevin is left by himself with no family, while we sit with our families and watch him cleverly and single-handedly destroy the bad guys.
1. Elf

The best Christmas movie when it comes to one-liners, by far. "Smiling is my favorite." "SANTA! I KNOW HIM!" It's hilarious and a movie that anyone of any age can enjoy and appreciate. Every character has something different to offer, and they mesh together perfectly. Plus, it's not the old-time Christmas movie that is TOO Christmas that'll make you feel like you're celebrating too early. It's enough to put you in the mood and get EXCITED for the holiday.
I'm sure I'll have some haters on this list.. Feel free to leave your thoughts, I can handle them. Either way, I'm right though. :)
Enjoy your night! And get ready for the best "season" of the year!
love,
elizabethany