Welp, the top 13 of American Idol made its debut last night...
Phone sex scandal
and all.
And I'm going to admit... I was pleasantly surprised.
Before last night happened, I was real angry about the choices. I thought this season was going to be miserable and not worth watching. But as AI always does, it officially reeled me in for the whole season. [Not that I had any doubt it wouldn't... But I made threats.]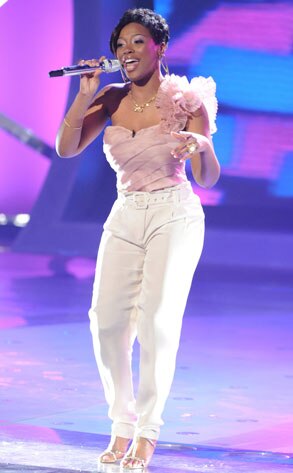 Though I still think there are some people who deserve to be there [
Jamar Rogers
and
Ju'Not
], I think I can find some people to really, really love.
They did Michael Jackson songs, which isn't easy, but for the most part, they pulled it off. Anyways, here are my quick thoughts on each person:
Lil Rounds sang "The Way You Make Me Feel," and it was downright amazing.

Scott MacIntyre sang "Keep the Faith," which seems appropriate for him. He sounds a LOT better when he has the piano there with him, but I still don't think I'll put him in the top half.
Danny Gokey did an awesome version of "P.Y.T." where he started out slow and then it picked up. Lovelovelove.
Michael Sarver did "You Are Not Alone." He reminds me SO much of Josh Gracin, which is a good thing! He's not the most amazing singer, but he's definitely good. And, he's got a crooked mouth, so we have something in common.
Jasmine Murray did "I'll Be There." In no way did she sound like a 16 year old girl. Her voice is huge, and I love it.
Kris Allen sang "Man in the Mirror" which was decent, but I think he's forgettable. Well, I know he is, actually. He's hott, and I like his sound, but there's no IT factor.
Allison Iraheta sang "Give In To Me" with a little rock edge. She's only 16, and again, doesn't sound like it. I think she's really good, but I'm not in love.
Anoop Desai, one of America's favorites, sang "Beat It," and probably lost a lot of fans. It wasn't terrible by any means, but it most certainly wasn't the amazing that many were expecting.
Jorge Nunez did "Never Can Say Goodbye," which I enjoyed, and I think he has a fantastic voice, but again, I'm not sure how rememberable he will be after a couple of weeks. I guess we'll have to see.

Megan Corkey sang "Rockin' Robin" and I was mad the whole time. I keep having flashbacks of Kristy Lee Cook with her, and that's not good. I have a feeling she'll be around for a while, even though she's not that great of a singer.
Adam Lambert sang "Black or White." So good. He is SO talented, and he's going to go far. He's different, but I think people will take to him.
Matt Giraud did "Human Nature" with help from his piano. Again, it was alright. He's definitely good, but nothing to sweep you off of your feet with.
Lucky #13, Alexis Grace did "Dirty Diana." Again, not terrible, but if the whole numbering issue messes her up and sends her home, I won't be too mad about it.
So, my votes went to Jasmine and Danny. I figure Lil will get enough votes to help her through. [Which is exactly what I tell everyone not to do.. "Always vote, no matter what!" Oh well...]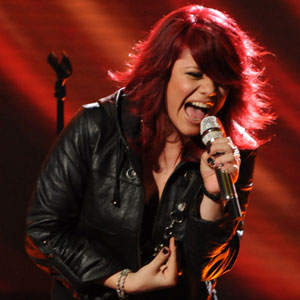 I assume the bottom 3 will be Alexis, Kris, and some kind of unexpected one. Maybe Allison. I'm not sure.
On a completely different note, Paula is taking on a new level of messed-up. I don't mean rude or whatever, I mean on drugs, alcohol, whatever you want to call it. The things she says are ridiculous.
However, Simon may have taken the cake on comments after Lil went. He simply said "Give me 5 minutes with Lil, and I'll have her all sorted out." WOAHHH SIMON! Family show here, let's keep it G-rated!!
Also, side note on Simon... Does he or does he not look like Bart Simpson when he gets dressed up? The hair, I mean.
That's all for now, though! Results tonight! Simon says it will be different than normal which scares me. I wonder if they'll have to sing for their lives, and the judges choose, like on ABDC.. Hmmm... Stay tuned!
love,
elizabethany
PS: More Idol-esque news... Taylor Hicks performed on Ellen today. I still like him and his voice, and I'm into this song, so I think I'll share. Enjoy :)