I told you a while back about the new Disney movie, The Princess and the Frog, coming out this year that will introduce the newest princess.
What's cool about her? She's the first African-American princess. Even cooler? She's also the first AMERICAN princess.
Hmmm... I read that, and thought, WHAT?! How is she the first American Disney princess?! That doesn't make sense.. But apparently Walt always hollered at the ladies from other countries to play our beloved girls.
The actress is Anika Noni Rose, who costarred in Dreamgirls. Now, she's the star. And she's pretty excited about it..
"When you take a moment and you think about the fact that this is what America has chosen to put out as Princess-hood, Princess-dom, it's amazing."
So, once this movie is out, this is what the Disney Princess Collection will look like: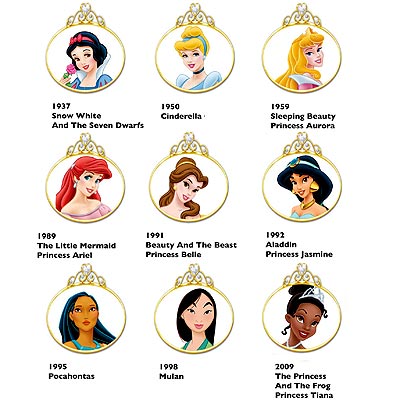 Does anyone else think it's funny that the last 4 princesses have all been different races? Like.. The first half is white. Nothing else. Then they got a revelation or something and decided they had to switch it up. Why not have two Indian princesses? Why didn't they have an African American a while ago?
Also, I had no idea that some of those movies were as "new" as they are. Interesting.
Welp, I'm excited! I'm really interested to see the movie!
love,
elizabethany