It's been a year since Sean "Meast" Taylor of the Washington Redskins passed away after being shot inside of his home in Florida.
#21 was an incredible player no matter what team he was on, and I would like to
pay tribute
to the man real quick, on the one year anniversary.
The Redskins are going to be inducting Taylor into the Ring of Fame before tomorrow's game against the Giants.. This is what a couple people have been saying at Redskins Park this week about it all...
"His life touched so many of us in such deep and lasting ways. His presence is all around us, in our organization and among our fans."
--Dan Snyder, Redskins owner
"This year, we will be honoring him. He will be a member of our Ring Fame and it's exciting to see his name go up there because he is a deserving player who practiced hard, played hard, and--even in the small time that he was in the National Football League--made his name be known. He put fear into offensive players to come across the middle and he was a playmaker.... [After a rough game, Sean said,] 'You're doing well, we all have to play better and all of these L's will turn into W's.' It's small conversations like that I remember having with Sean."
--Jason Campbell, Redskins QB
"He was one of these guys that if you needed something, if you needed a friend, he was a great friend. He was going to be there for you. That's rare among people in general and it's rare among guys with his talent. He was very unique."
--Greg Blache, Redskins' defensive coordinator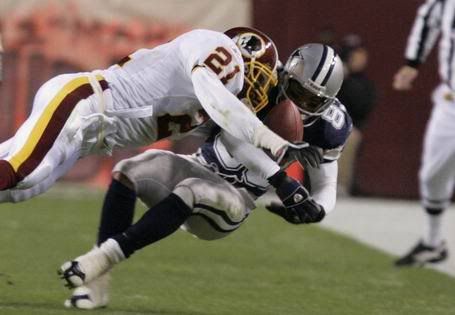 "It's definitely changed me, the way I handle and the way I carry myself," Portis said. "I don't worry about what other people think. Sean didn't like attention and he didn't do characters like I did. But you see the effect that he left behind. You realize, 'What's my effect on people going to be when I'm gone? How are people going to look at me?' I think about that the way I come out and practice, pushing myself through [drills] that I would normally sit back and take a mental rep on. Just being accountable and always wanting to be giving, making sure you're giving your all."
--Clinton Portis, Redskins RB and best friend of Taylor
"I hope we all go out and play lights-out football like Sean would have played. That's something I've tried to do this year: every time the game is in a critical situation, I'm looking up there knowing that this is a critical time and that '21' would do something to make a play. It makes you want to go out there and be the best you can be, especially on his day. His day. It makes you want to go out there and give fans a memory of that day and what went on that day when it comes to Sean."
--Santana Moss, Redskins WR and best friend of Taylor
It definitely hit Santana and Clinton the hardest on the team.. And it shows in how they play this year. They say it now, but we've seen it all season. Portis especially almost came out as a whole new player. He still wears his #21 shirt under his jersey every game, and Santana still throws up the 21 every time he makes a big play.
They're not the only ones hurting, that's for sure. I know fans still throw the 21 up quite a bit, and it's probably the #1 jersey worn.. But that's just an assumption on my part based on what I have seen.
We miss you Sean. May you rest in peace and keep an eye on our 'Skins. You were one of the most amazing players in the NFL.. Certainly that I have ever seen in my lifetime.
You inspired so many, in multiple ways, and we'll never forget you or your infamous ridiculously-hard hitting tackles. Keep doing your thing up there. And from all of your fans down here, we love you.
love,
elizabethany