Remember when J.Lo suddenly disappeared for what seemed like forever?
In a recent
interview
, which wasn't supposed to be published but thanks to the internet now we all know what happened, she explained that she had a nervous breakdown because she was just doing too much all at one time.
"There was a time when I was very overworked and I was doing music and movies and so many things. I was suffering from a lack of sleep. And I did have a kind of nervous breakdown. I froze up on a set. Well, not on a set, but in my trailer. I was like, 'I don't want to move. I don't want to talk. I don't want to do anything'...Yeah. I did. I had a nervous breakdown."
--Jennifer Lopez
It was while she was on the set of "Enough" in 2002.. also when songs like "Jenny From the Block" were becoming huge.
So, that's probably why she seemed to fade off for a bit. I guess she had to take some time to herself, out of the spotlight, unlike some of our celebs who have breakdowns in front of the world. (Not naming any names..)
But now she is back in the public eye, and with a husband and twins to show off. She mentioned their pictures in
People Magazine
in the interview, also. Saying that they never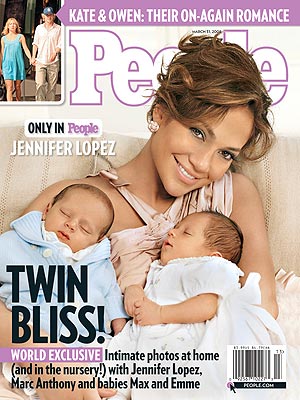 wanted to sell the pictures but then decided it could set them up for their future. (AKA pay for their college.. who knew celebs really did that ahead of time?!) Apparently she's not as rich as people say she is... Unless she's modest in her old age. (JK of course.)
All I know is I'm glad to see her around more lately, but I'd LOVE to have at least SOME of the old J.Lo back. I miss her! Then again, I'm a lover of the 90s and early 2000s.
Give us more of you, Jenny! We love you! :)
love,
elizabethany